The CCIA / AGC of CT Young Contractors Forum (YCF)
[YCF] is sponsored by the Connecticut Construction Industries Association and the Associated General Contractors of CT. Founded to provide construction professionals under the age of forty a foundation rooted in excellence, through educational programs and experiences. Also, provides excellent opportunity for firms to be represented in the Association by the next generation.
Become a Member!
Simply complete and return the application.
EVENTS AND MEETINGS:
2017 Calendar of Events (printable pdf)
YCF Membership Meeting
Thursday, October 19, 2017 4:30 PM - 6:30 PM
Thomas Hooker Brewery, Bloomfield
Contact: Jean Barlage
jbarlage@ctconstruction.org
860.529.6855 ext. 133
Registration coming soon!
prior Happenings:
YCF Charity Golf Outing
Thursday, July 27, 2017 | 2:30 pm - 6:30 pm Shotgun start
Lyman Orchards, Robert Trent Jones Course (9-hole scramble tournament)
Baseball, BBQ & BEER
Thursday, August 31, 2017 | 5:35pm
Hartford Yard Goats vs Portland Sea Dogs [7:05 Game Time]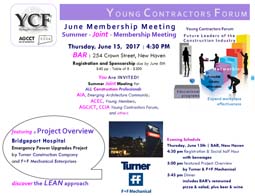 YCF Summer Joint Membership Meeting
New Date: Thursday, June 15, 2017 | 4:30 pm
BAR, New Haven
A Project Overview on the Bridgeport Hospital – Emergency Power Upgrades Project,
by Turner Construction Company & F+F Mechanical Enterprises

Joint Meeting for construction professionals from AIA, Emerging Architecture Community and ACEC, Young Members, AGC/CT, CCIA YCF and YOU!

Details: [printable pdf]
YCF Facility Tour at United Steel, Inc.
and Social Hour at Margaritas, East Hartford,
was held Thursday, April 13, 2017.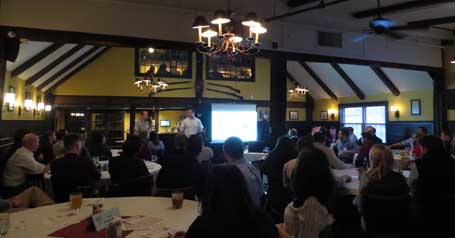 YCF Membership Meeting | J. Timothy's Taverne, Plainville, CT [March 9, 2017]
3D Scanning - A Project Planning Tool - Demonstration and Presentation by:
Corey Cluser, Manager, BuildingPoint NorthEast and Drew Enstice, Field Solutions Northeast Sales Manager, Trimble, MEP Division
YCF voted in the 2017 Leadership Council and thanked outgoing president, Katie Hurley for her dedication and time in service. [Photo Album]
[News Release] Young Contractors Forum, Annual Membership Meeting & Holiday Reception
Thursday, December 15, 2016 held at City Steam Brewery, 942 Main Street, Hartford, CT.
[Photo Gallery] YCF Summer Joint Membership Meeting was held, Thursday, June 2, 2016 at BAR featured a project overview on The Walk Bridge Program by WSP | Parsons Brinckerhoff & ConnDOT
Photos by Karen Misko Photography
YCF LEADERSHIP COUNCIL
President
Daniel Tiso, C.H. Nickerson & Company, Inc.
Vice President
Tyson Burk, O&G Industries, Inc.
Secretary
Luke Conrad, Hinckley Allen
Treasurer
Adam Canosa, Marcum LLP
Council Members:
Dan Berlinski, Skanska USA Building Inc.
Christopher Filomeno, Acoustics, Inc.
Stephanie Greenman, Gilbane Building Company
Gregg Lionetti, Whittlesey & Hadley, P.C.
Lucas Munson, Suzio York Hill Companies
Richard Ward, Welby, Brady & Greenblatt, LLP
Devin Widger, Manafort Brothers Incorporated
MEMBERSHIP BENEFITS
Build a network of peers, expanding workplace effectiveness.

Educational Programs focusing on pertinent issues to young construction professionals

Accessible information about current industry issues

Participation in Industry & Community support events

Social events

Electronic receipt of Highlights, Bulletins, Program Flyers, Etc.
Annual Membership Dues:
The dues are paid by the Member Firm for each young professional participating:
First Member from Your Firm: $100
Second Member from Your Firm: $75
Third & Beyond Members from Your Firm: $50
Get Involved
with the
FUTURE GENERATION | Young Professionals