The CCIA / AGC of CT Young Contractors Forum
[YCF] is sponsored by the Connecticut Construction Industries Association and the Associated General Contractors of CT. Founded to provide construction professionals under the age of forty a foundation rooted in excellence, through educational programs and experiences. Also, provides excellent opportunity for firms to be represented in the Association by the next generation.
become a Member!
Simply complete and return the application
EVENTS AND MEETINGS:
2017 Calendar of Events (printable pdf)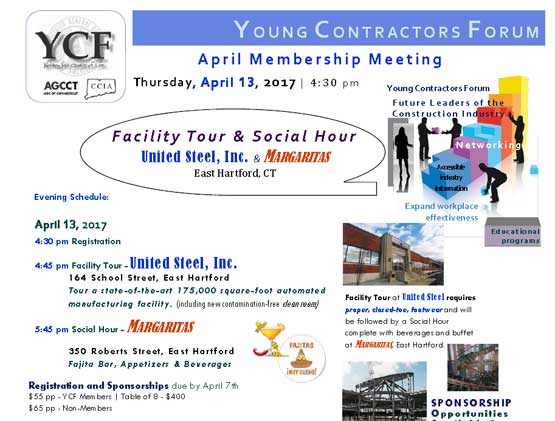 YCF Facility Tour: United Steel, Inc.
and Social Hour: Margaritas, East Hartford
Thursday, April 13, 2017
4:30 pm
[Register Today! - online: www.ctconstruction.org/ycfmmreg] [Registration form printable pdf]
YCF Joint Membership Meeting
BAR, New Haven
with AIA, Emerging Architecture Community and Connecticut Engineers, Young Members and others
New Date: Thursday, June 15, 2017 | 4:30 pm
YCF Charity Golf Outing
Thursday, July 13, 2017 | 3:00pm Shotgun start
Lyman Orchards, Jones Course (9-hole scramble tournament)
prior Happenings: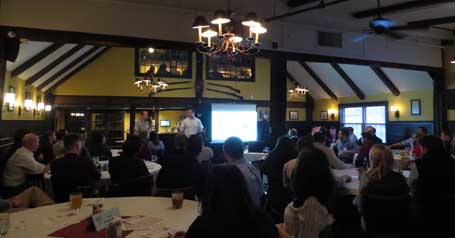 YCF Membership Meeting | J. Timothy's Taverne, Plainville, CT [March 9, 2017]
3D Scanning - A Project Planning Tool - Demonstration and Presentation by:
Corey Cluser, Manager, BuildingPoint NorthEast
Drew Enstice, Field Solutions Northeast Sales Manager, Trimble, MEP Division
[Photo Album] YCF voted in the 2017 Leadership Council and thanked outgoing president,
Katie Hurley for her dedication and time in service.
[News Release] Young Contractors Forum, Annual Membership Meeting & Holiday Reception
Thursday, December 15, 2016 held at City Steam Brewery, 942 Main Street, Hartford, CT.
[Photo Gallery] YCF Summer Joint Membership Meeting was held, Thursday, June 2, 2016 at BAR featured a project overview on The Walk Bridge Program by WSP | Parsons Brinckerhoff & ConnDOT
Photos by Karen Misko Photography
YCF LEADERSHIP COUNCIL
President
Daniel Tiso, C.H. Nickerson & Company, Inc.
Vice President
Tyson Burk, O&G Industries, Inc.
Secretary
Luke Conrad, Hinckley Allen
Treasurer
Adam Canosa, Marcum LLP
Council Members:
Dan Berlinski, Skanska USA Building Inc.
Christopher Filomeno, Acoustics, Inc.
Stephanie Greenman, Gilbane Building Company
Gregg Lionetti, Whittlesey & Hadley, P.C.
Lucas Munson, Suzio York Hill Companies
Richard Ward, Welby, Brady & Greenblatt, LLP
Devin Widger, Manafort Brothers Incorporated
MEMBERSHIP BENEFITS
Build a network of peers, expanding workplace effectiveness.

Educational Programs focusing on pertinent issues to young construction professionals

Accessible information about current industry issues

Participation in Industry & Community support events

Social events

Electronic receipt of Highlights, Bulletins, Program Flyers, Etc.
Annual Membership Dues:
The dues are paid by the Member Firm for each young professional participating:
First Member from Your Firm: $100
Second Member from Your Firm: $75
Third & Beyond Members from Your Firm: $50
Get Involved
with the
FUTURE GENERATION | Young Professionals