Support a well-funded,
multi-year surface transportation bill
that provides robust transportation growth.
Stand Up 4 Transportation Rally!
April 9, 2015 • 10:30 a.m.
The Great Hall at Union Station, Hartford
Parking: Spruce Street, Parking Lot
Senator
Christopher Murphy
Congresswoman
Elizabeth Esty
Governor
Dannel Malloy
Lieutenant Governor
Nancy Wyman
ConnDOT Commissioner
James Redeker
along with stakeholders and transportation advocates as we
Stand Up 4 Transportation!
Connecticut Association for Community Transportation (CACT)
Connecticut Construction Industries Association (
CCIA
)
Connecticut Fund for the Environment (CFE)
Transit for Connecticut Coalition (TFC)
No need to RSVP - Just Be There! (Free T-Shirts to the First 100 Folks!)
Facebook Meme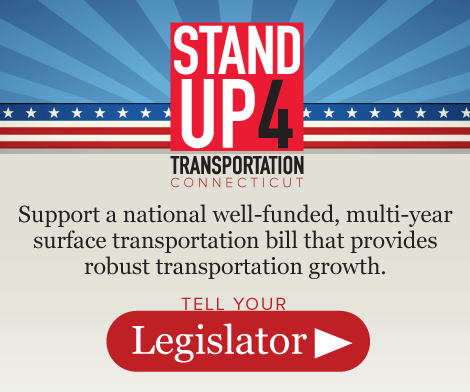 Share this meme on your Facebook page.
Be sure to provide a link to the online letter to CT's congressional delegation:
http://bit.ly/StandUpCTDelegation