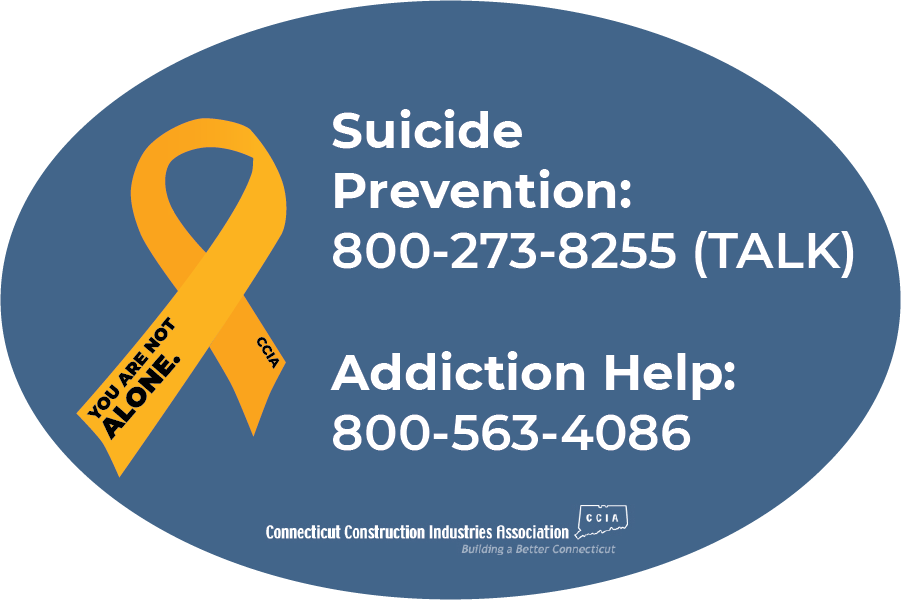 Opioids in the Construction Industry Stand Down
Week of October 28- November 1, 2019
Recognizing that opioid abuse in the general population has reached epidemic proportions in the U.S. and, more specifically, the increasing susceptibility of construction workers to experience substance use disorders, the Connecticut Construction Industry Association will conduct an Opioid Stand Down of its members during the week of October 28, 2019-November 1, 2019.
The goal of the Stand Down is to create awareness, provide resources, and reduce the stigma involved with opioid use. In the end, our ultimate goal is to prevent deaths from unintentional overdoses. The Stand Down is an opportunity to have a conversation with your employees about opioid addiction, overdose prevention, and the company/union's safety policies and goals.
Our guidelines and shared resources will help you navigate and manage a complex subject matter that is currently challenging all aspects of the construction community.
For further information, please contact John Butts at CCIA.
PLANNING YOUR STAND DOWN
CCIA Opioid Use Prevention Poster
SAFETY TRAINING & PREVENTION
Manual ??
ADDITIONAL RESOURCES