Specialty Contracting
Concrete Award co-sponsored by the CT Ready-Mixed Concrete Association (CRMCA) and the CT Concrete Promotion Council (CCPC)
Yale University, Morse & Ezra Stiles Colleges Renovation
Manafort Brothers, Inc.
There are numerous innovative features incorporated into the Yale University's Morse and Ezra Stiles Colleges but the basis of the 2012 Build CT Award for Specialty Construction: Concrete is the cast in place concrete construction. The new crescent courtyard addition, completely underground, is the centerpiece of this project. This 25,000 square addition includes a variety of activity rooms, a fifty-seat theater, music practice rooms, exercise facilities, and spaces for dance and aerobics.
Contractor: Manafort Brothers, Inc.
Owner: Yale University
Construction Manager: Turner Construction Company
Designer/Architect: Kieran Timberlake Associates
Engineer: CVM Engineers Inc. – Structural Engineer
Major Suppliers: Barker Steel
Harsco Infrastructure
The L. Suzio Concrete Co.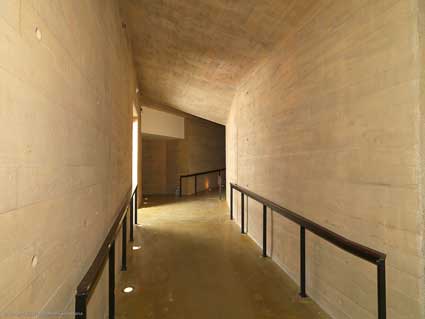 Morse & Ezra Stiles Colleges Renovation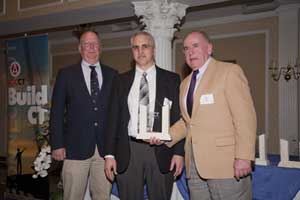 Mick Tarsi (m) of Manafort Brothers is presented the Build CT Award by Kevin Miller, President, Connecticut Concrete Promotion Council (l) and Jim Langlois, Executive Director, Connecticut Concrete Promotion Council and Connecticut Ready Mixed Concrete Association (r)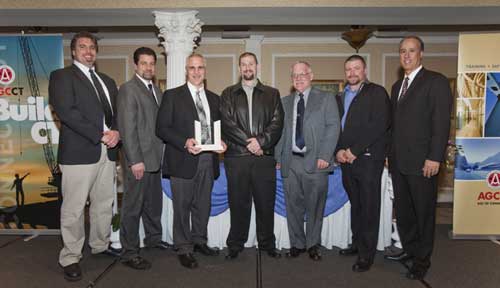 The Manafort Brothers team