CRBA members include contractors, subcontractors, material suppliers, consulting engineers, and professional service providers operating in the heavy and highway construction industries.
CRBA is an advocate for its members' interests at the federal and state levels.
It represents member interests on national issues at meetings with Connecticut's Congressional Delegation and on local issues with the State Legislature and Governor's office.
It works on contract administration issues with the United States Department of Transportation as the Connecticut Chapter of the American Road and Transportation Builders Association, the national trade association for the transportation construction industry.
Also, it works directly with the Connecticut Department of Transportation on all areas of interest to its members.
Events:
CRBA Annual Fall Dinner - was held on Wednesday, October 30th, at the Aqua Turf Club. CONGRATULATIONS TO the 2019 Arthur Gruhn Excellence in Construction Award winners, I-84 Constructors JV (Empire Paving, Inc. & Yonkers Contracting Company, Inc.), O&G Industries, Inc., Waters Construction Company, Tilcon Connecticut Inc., The Middlesex Corp., and ROTHA Contracting Co. who were honored before approximately 250 members and guests. We extend special thanks to all sponsors and attendees.
CCIA Annual Meeting and Holiday Reception - Wednesday, December 4, at the Aqua Turf Club (Kay's Pier North), Plantsville.
For additional events, please visit the CCIA Calendar of Events for up to date information.
This year, at the 7th Annual Construction Industry CRBA, CEUCA, CRMCA - Joint Forces Luncheon,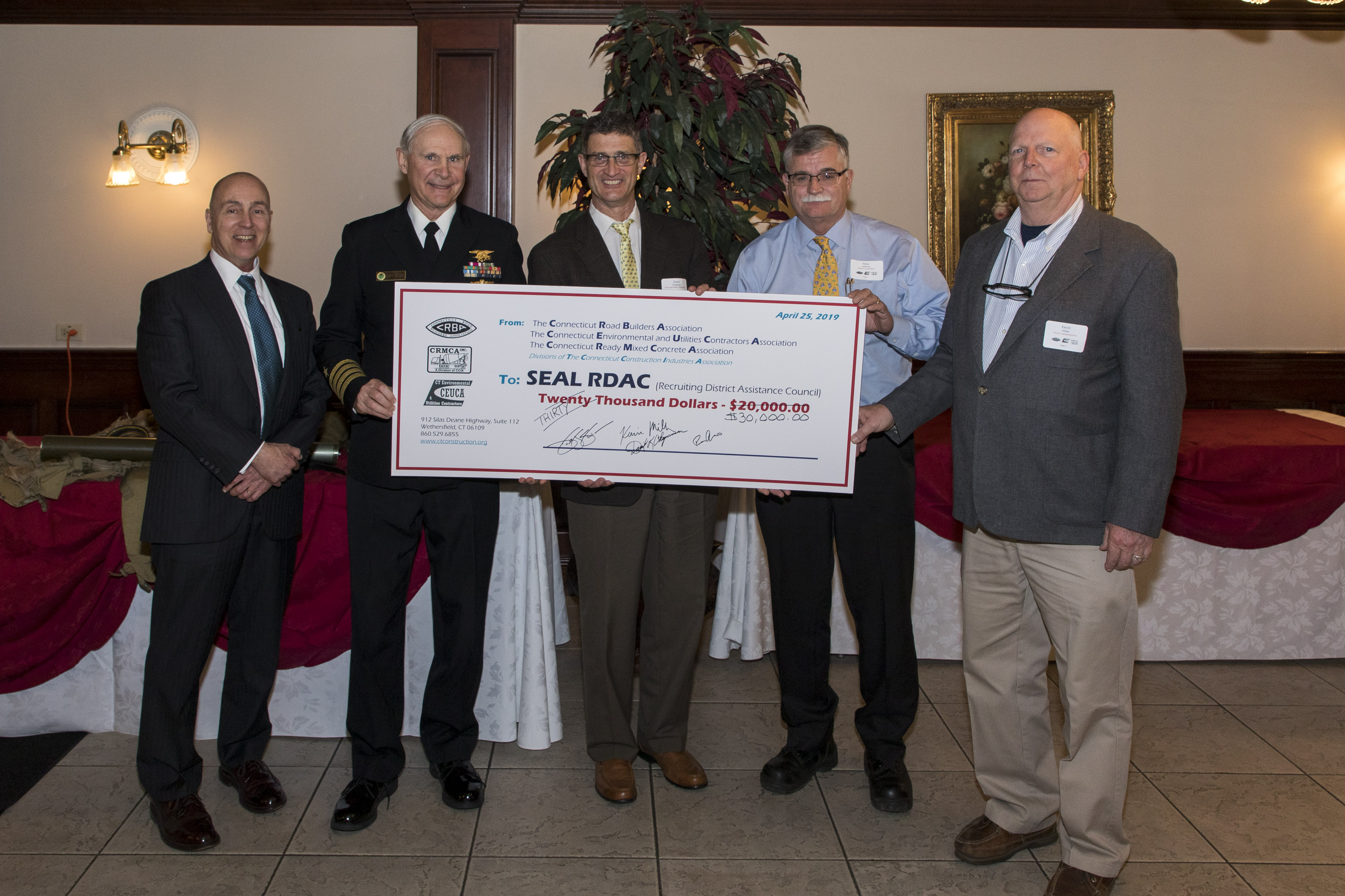 held on Thursday, April 25, 2019, special Guest Speaker, Andrew Bisset, retired U.S. Navy Captain and former Navy SEAL spoke about his experience building a distinguished Navy SEAL Mentorship Program in Connecticut. The proceeds benefited the SEAL RDAC (Recruiting District Assistance Council). Many thanks to all those who attended and sponsored!

Photo: Don Shubert, CCIA, Capt. Bisset, Dave Chapman, Blakeslee Arpaia Chapman, Inc., Pete Arborio, Arborio Corporation, and Kevin Miller, Tilcon Connecticut Inc.
CRBA OFFICERS
President - Jeffrey Lower, Loureiro Contractors, Inc.
1st Vice President - John M. Brunalli, The Brunalli Construction Company
2nd Vice President - Peter Arborio, Arborio Corporation
Treasurer - John Gemetro, O&G Industries
Executive Secretary - Donald Shubert
From ARTBA
A Mobile App—"Transportation Construction Advocate"™—rolled-out to help the public and private sectors of the U.S. transportation construction industry and other interested stakeholders communicate easily with members of Congress about the importance of infrastructure investment to the U.S. economy. It puts all the information you need for your upcoming legislative meetings at your fingertips.
How To Download the App to an Android or Apple device.
Links:
Contact the CRBA
E-Mail
Phone: 860-529-6855 · Fax: 860- 563-0616
912 Silas Deane Highway · Wethersfield, CT 06109