MEMBER LOGIN


Connecticut Ready Mixed Concrete Association
The mission of CRMCA is to promote the use of ready mixed concrete and innovative construction products and technologies.
CRMCA events provide both social and educational opportunities for members to discuss and learn about the latest trends and technology in the ready mixed concrete industry.
CRMCA also offers a concrete inspection certification program to ensure quality control for concrete products and applications.
CRMCA works through the National Ready Mixed Concrete Association on federal and local industry matters.
CRMCA's Concrete Promotion Council is the most active committee in the division, hosting monthly meetings and a variety of educational and concrete promotional programs and events throughout the year.
* * * * * * * * * *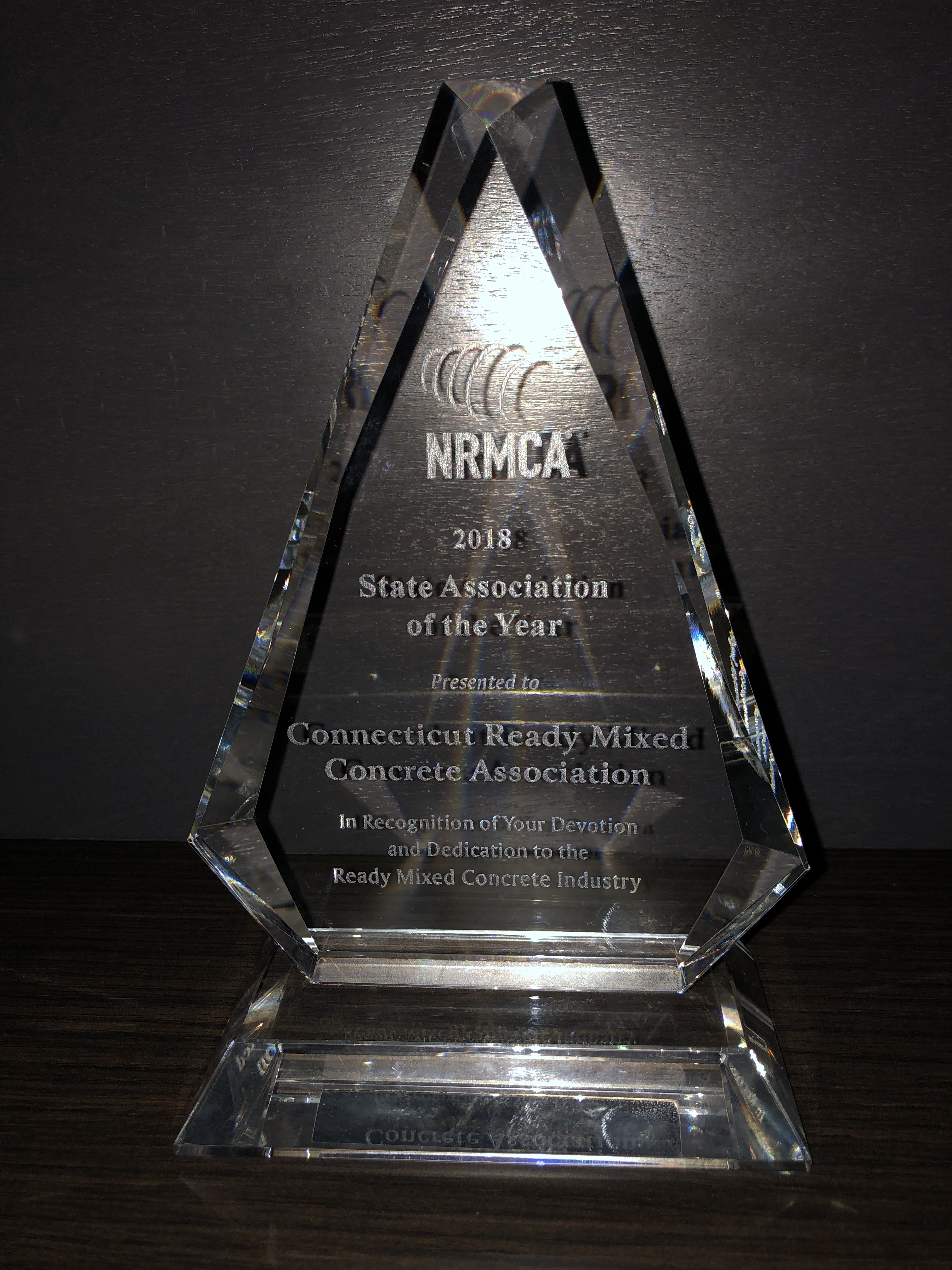 Congratulations to CRMCA for receiving the 2018 State Affiliate of the Year award by the National Ready Mixed Concrete Association (NRMCA) on Mar. 6, 2019, at the annual NRMCA convention held at the Saddlebrook Resort, Tampa. FL.
The State Affiliate Award recognizes the state association that works to promote the use of ready mixed concrete and the national Build with Strength awareness campaign. Accepting the award for the CRMCA were Ric Suzio, CRMCA Board member and President of L. Suzio Concrete Company, Meriden CT and Dominic DiCenzo, Executive Director of the Connecticut Concrete Promotion Council (CCPC).
2019 Industry Calendar of Events

March 2019
5-7 NRMCA/PCA Annual Convention, Saddlebrook Resort, Tampa, Florida
24-29 ACI Convention, Quebec City Convention Centre, Quebec City, Canada

April 2019
01 Concrete Basics, Bullard-Havens Technical High School, Bridgeport CT
04 Construction Career Fair, CBC/Capital Community Colllege, Hartford CT
08-10 ICRI Spring Convention, Omni Hotel & Resort, Jacksonville, FL
09-10 NRMCA's Cement & Concrete Fly-in, Washington DC
11-12 CT Fire Marshals Annual Conference Berlin, CT
15-19 Lunch & Learn tour, Gregg Lewis, NRMCA various architect/engineering firms CT
CRBA, CEUCA, CRMCA: 7th Annual Construction Industry - Joint Forces Luncheon, Thursday, April 25 | 11:30 am, at the Aqua Turf Club, Wagon Room, Plantsville. Join forces with other members from various sectors of the commercial construction industry for a worthy cause! Guest Speaker, Drew Bisset, retired U.S. Navy Captain and former Navy SEAL will talk about his experience building a successful Navy SEAL Mentorship Program in Connecticut. All proceeds will be contributed to the SEAL RDAC (Recruiting District Assistance Council), a mentoring program that Capt. Bisset commands for candidates striving to become SEALS. Special thanks to our Program Sponsors: LaFarge Holcim, McAllen Construction, O&G Industries and United Concrete.
27 ICF's & Build with Strength Exhibit, Maker Faire, Westport CT

May 2019
15 CCPC Membership meeting, CCIA Headquarters, Wethersfield, CT
16 Joint ASCE/CSCE Spring Social Yard Goats Game Hartford CT

August 2019
7 CCPC Membership meeting, CCIA Headquarters, Wethersfield, Connecticut

September 2019
16 CRMCA Diggers, Mixers & Fixers Golf Outing, Torrington Country Club. CEUCA, CCPC, CRMCA, and EDD invite you to join us on the golf course to pay tribute to Jim Langlois at the Diggers Mixers Fixers Golf Outing on Monday, September 16, at The Torrington Country Club from 10:00 am to 6:00 pm. Cost is $155 pp. Registration will be open soon. To inquire about sponsorship opportunities, please email jbarlage@ctconstruction.org.

October 2019
5-7 NRMCA ConcreteWorks, Gaylord Palms Resort, Kissimmee, Florida
20-24 ACI Convention, Cincinnati, Ohio
TBD ConcreteWorks Northeast, New England area location

November 2019
11-13 ICRI Fall Convention, Doubletree Hilton, Philadelphia, Pennsylvania
13 CCPC Membership meeting, CCIA Headquarters, Wethersfield, Connecticut
December 2019
4 CCIA Annual Holiday Reception, Aqua Turf Club, Kay's Pier North, Plantsville.
* * * * * * * * * *
Training Calendar:
Training Courses:
ACI Flatwork Finisher: Application

April 2019 - Dates to be announced
* * * * * * * * * *

Read the The CONNCRETE Times, an electronic publication distributed by Dom DiCenzo, Executive Director, CT Concrete Promotion Council, to keep you informed about news, events, training and calendar dates of importance to our members. Questions, call or email Dom DiCenzo at 203 915-0279 or ctconcretepromotion@gmail.com.
To keep informed on all events, bookmark and frequently visit our calendar of events. Stay connected with social media!

* * * * * * * * * *
Links of Interest:
CRMCA Officers:
President
Kevin Miller, Tilcon Connecticut Inc.
Vice President
T.J. Oneglia, O&G Industries, Inc.
Secretary
Len Suzio, The L. Suzio Concrete Company, Inc.
Treasurer
Don Penepent, Tilcon Connecticut Inc.
Executive Director
Don Shubert, CCIA
CRMCA Directors:
Sue Duffy, O&G Industries, Inc.
John Ellis, Lehigh Cement Co.
Seymour Adelman, Adelman Sand & Gravel, Inc.
Michael Tarsi, Manafort Brothers, Inc.
Darryl Neopalitano, Lafarge Holcim
Ric Suzio, The L. Suzio Concrete Company, Inc.
Lauren Forgione, The F&F Concrete Company
Contact the CRMCA
E-Mail
Phone: 860-529-6855 · Fax: 860- 563-0616
912 Silas Deane Highway · Wethersfield, CT 06109