CONNECTICUT ASPHALT AND AGGREGATE PRODUCERS ASSOCIATION (CAAPA)
CAAPA represents producers, contractors and suppliers of hot plant-mixed asphalt pavements in the state.
CAAPA supports its members' interests on environmental issues and works to improve the quality of plant-mixed asphalt pavements and paving techniques used in the construction of roads, streets, highways, parking lots, airports, and environmental and recreational facilities. CAAPA is an advocate for its members' interests at the state and federal levels.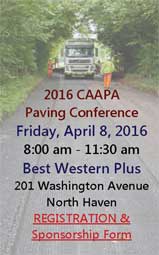 58th Annual CAAPA Paving Conference
Friday, April 8, 2016 | 8:00 am - 11:30 am, Best Western Plus, North Haven

Featuring: the 2015 ConnDOT Asphalt Pavement Awards [Winners Announced!],
Milling & Reclaiming by WIRTGEN, discussing state-of-art machines and cutting-edge technologies for road construction
National Asphalt Pavement Association (NAPA) with a unique presentation on the highway market opportunities
that arise from the recently passed Fast Act with a national market forecast.
[Registration & Sponsorship/Vendor/Ad Form] [Public/State/Town Officials(no fee) Registration]
Please Register by April 1, 2016
CAAPA Officers
President
Len Suzio,
The L. Suzio Asphalt Co., Inc.
Vice President
Brad Oneglia
O&G Industries, Inc.
Treasurer
Tom Avery,
CT Paving LLC
Executive Secretary
Donald Shubert
Resources
CAAPA Contact Information
Donald Shubert
Phone: 860.529.6855 | Fax: 860.563.0616
Email: dshubert@ctconstruction.org