Announcing the 5th Annual Roadway Safety Poster Contest for Children
Roadway Safety should be a priority and we are asking the children of Connecticut to help promote roadway safety through art. Submissions due February 20th.
The contest is for children grades K-6 with winners in multiple groups - grades K-1, 2-4, and 5-6.
Submissions of children's best (original) creative poster illustrating roadway safety.
Also, please share this short animated video showing children how to be safe on the roadway as pedestrians, bicyclists and passengers in a car.
Please support this program by passing this information along and by taking it home so your children can participate. We do not require the posters to be submitted by schools, so families can mail posters directly.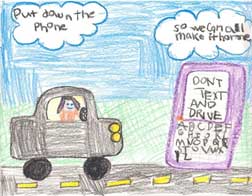 Information and application packet: http://t2center.uconn.edu/pdfs/2015PosterPacket.pdf
Winners will receive prizes and awards at the Work Zone Safety Week Press Conference held in March 2015.
Prizes this year include Kindle Fire HD 7s for winners and gift cards and a variety of goodies for runner-ups.
Thank you very much for your support of this program, we are looking forward to seeing this year's creative entries!