CCIA News Room
CCIA HIGHlights | October 31, 2014



Connecticut's only weekly publication providing construction industry coverage from federal, state, and local perspectives. Please note: accessible to members only, requires user name and password.

THE 2014 CCIA COMMUNITY SERVICE AWARD


- member companies are recognized for outstanding contributions made to their communities. Nominations being accepted until 5 pm, November 7, 2014. Nomination Guidelines & Application [
here
]

CONGRATULATIONS TO INDUSTRY RECOGNITION AWARDEES!

AGC of Connecticut Industry Recognition Award 2014 winners:
Public Owner of the Year
: Brian Armet, The Mattabassett District;
Private Owner of the Year
: Abul Islam, AI Engineers, Inc.;
Designer of the Year
: Craig Saunders, Tecton Architects, Inc.;
GC/CM of the Year
: Guido Petra, Petra Construction Corp.;
Subcontractor of the Year
: John Ferrucci, F+F Mechanical Enterprises, Inc.;
Supplier/Service Provider of the Year
: Donald Doeg, Updike, Kelly & Spellacy, PC;
Construction Supervisor of the Year
: James Nardi, O&G Industries, Inc.;
Project Manager of the Year
: Darren Antolini, The Fusco Corporation;
Educator of the Year
: Raymond Perreault, Central Connecticut State University; and
Safety Professional of the Year
: Jody DeCarolis, Dimeo Construction Co.
Photo Gallery provided by John Marinelli Photography
A list of all finalists is provided at this link, and we extend special thanks to all sponsors and advertisers, listed at this link.

CONNstruction - FALL 2014:



A Legislative Primer! Feature Articles include:
•Picking Connecticut's Next Governor
•Congressional Candidates Weigh In
•Your Critical Addition to the Industry Voice – Made Easy!
•Step-up and Advocate or the Opposition Wins by Default

FOLLOW CCIA ON TWITTER!


OSHA FALL PREVENTION FACT SHEET



OSHA SUMMER HEAT WARNINGS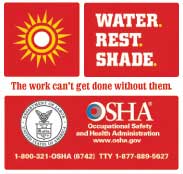 CONNDOT Contractor Bid Results

access the most current bid results -
here

Archived articles