CCIA News Room
Davis-Bacon - Construction Survey Briefing - NEW LOCATION



New Location:
Tuesday, September 27, 2016 the US DOL Davis-Bacon Prevailing Wage
pre-survey
Briefing will be held at the Sheraton Hartford South Hotel, 100 Capital Boulevard, Rocky Hill, CT 06067. Registration is requested via email to
chall@ctconstruction.org
or return the printable [
pdf
].

CEUCA Annual Fall Dinner Meeting:


Building Your BEST Workforce II - Let's Get Social
Thursday, October 6, 2016, 4:30 pm - 6:30 pm, Sheraton Hartford South, Rocky Hill, Social hour and dinner followed by The Workplace presentation on workforce and business development.
Registration & Sponsorship Details - flier -

CONNstruction - Fall 2016, Business Development, a Critical Need: Digital Edition



Features Include: Building Relationships; The Skill of Advocacy; Customer Perspective: Developing Service Competencies; and more

CCIA JOB BOARD



CCIA MEMBER FIRMS can now post open employment positions here at: www.ctconstruction.org/jobboard - and job seekers can easily find and sort open positions in the construction industry.

BuildConnecticut - Build Construction Career: CLICK HERE!



Visit
BuildConnecticut.com
or Download the Construction Career Path [
pdf
] Today!

OSHA SUMMER HEAT WARNINGS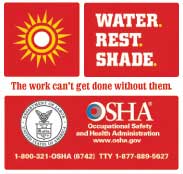 FOLLOW CCIA ON TWITTER!


CCIA HIGHlights | Sept. 16, 2016



Connecticut's only weekly publication providing construction industry coverage from federal, state, and local perspectives.
Please note: accessible to members only, requires user name and password.

OSHA FALL PREVENTION FACT SHEET



CONNDOT Contractor Bid Results

access the most current bid results -
here

Archived articles