CCIA News Room
PRESS RELEASE - 2014 Forum on Transportation



THE 2014 CCIA COMMUNITY SERVICE AWARD


- member companies are recognized for outstanding contributions made to their communities. Nominations being accepted until 5 pm, November 3, 2014. Nomination Guidelines & Application [
here
]

MONDAY: GUBERNATORIAL CANDIDATE FORUM ON TRANSPORTATION

Party-endorsed candidates to speak on transportation challenges facing state. Monday, Sept. 15, 2014, 8:30 am, Best Western Plus North Haven, North Haven, CT. The event is open to the public with a $10 registration fee payable at the door via check or cash only. A Full House is Expected!

CONNstruction - FALL 2014:



A Legislative Primer! Feature Articles include:
•Picking Connecticut's Next Governor
•Congressional Candidates Weigh In
•Your Critical Addition to the Industry Voice – Made Easy!
•Step-up and Advocate or the Opposition Wins by Default

2014 FORUM ON TRANSPORTATION

will provide an up-close and candid discussion with Governor Dannel Malloy and candidate for governor, Thomas Foley, on Mon., Sept. 15, 2014, 8:30 am, at the Best Western Plus, North Haven. Registration Details on
printable form
or online registration –
www.ctconstruction.org/TransportationForum
.

Leadership & Innovation for the Future RECOGNIZED!



at the AGC/CT 2014 Industry Recognition Awards - Be THE EVENT Sponsor and be prominently featured on the promotional flier and more ...[details]

CCIA HIGHlights | September 12, 2014



Connecticut's only weekly publication providing construction industry coverage from federal, state, and local perspectives. Please note: accessible to members only, requires user name and password.

FOLLOW CCIA ON TWITTER!


OSHA FALL PREVENTION FACT SHEET



OSHA SUMMER HEAT WARNINGS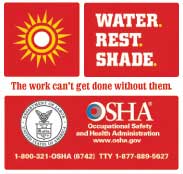 CONNDOT Contractor Bid Results

access the most current bid results -
here

Archived articles