CCIA News Room
Build with Strength - Program


Wednesday, June 29, 2016 , 8:30 am - Program for the contractor, designer, architect and YOU! by the CCPC / CRMCA & NRMCA. No cost | registration required: http://bit.ly/CCPCbreakfast

Build YOUR Construction Career!


Visit
BuildConnecticut.com
or Download the Construction Career Path [
pdf
] Today!

CONNstruction Summer 2016: Digital Edition!



Featuring articles showcasing - Construction Industry Awards - plus, news & views, and highlights & happenings. Read Today!

OSHA SUMMER HEAT WARNINGS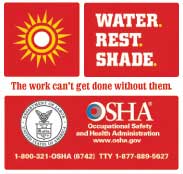 CCIA JOB BOARD



CCIA MEMBER FIRMS can now post open employment positions here at: www.ctconstruction.org/jobboard - and job seekers can easily find and sort open positions in the construction industry.

CCIA HIGHlights | June 24, 2016



Connecticut's only weekly publication providing construction industry coverage from federal, state, and local perspectives.
Please note: accessible to members only, requires user name and password.

OSHA FALL PREVENTION FACT SHEET



FOLLOW CCIA ON TWITTER!


CONNDOT Contractor Bid Results

access the most current bid results -
here

Archived articles