The Connecticut Concrete Promotion Council promotes the use of cast concrete as the material of choice for all types of commercial and residential construction and will concentrate its efforts in those areas in which it is in direct competition with other materials offering less benefits than cast concrete and in those areas involving the new growing use of cast concrete as a better construction material.
Membership Information and Application
Training Courses:
Upcoming Activities:
Monday, September 25, 2017
Diggers Mixers Fixers Annual Golf Outing | Jim Langlois Memorial
Southington Country Club
Register today! Registration and Sponsorship Form
Past Activities:
Thursday, August 10, 2017: CCPC Annual Picnic, Odetah Camping Resort
Mini Golf & Pizza Truck -
Thank you to our event sponsors - F&F Concrete, Manafort, Norlite Expanded Shale Aggregate, O&G, The Euclid Chemical Company, The L. Suzio Concrete Co., and all attendees!
CRBA, CEUCA, CRMCA | Joint Forces Annual Luncheon
Helping Make a Difference!
The 5th Annual Joint Forces Luncheon which was held, April 27, 2017, at the Aqua Turf. A contribution of $25,000 was made to the Entrepreneurship Bootcamp for Veterans with Disabilities (EBV), which enables disabled veterans the opportunity for economic improvement through the EBV experience.
Photo Gallery by John Marinelli Photography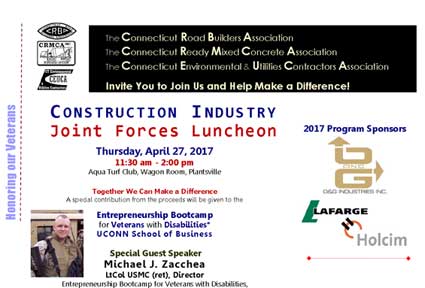 Concrete Performance Specs PROGRAM by Colin Lobo, Ph. D., P.E., NRMCA Senior Vice President of Engineering
was held Monday, March 20, 2017, 10:00 am - 12:00 noon | Central Connecticut State University [CCSU], Memorial Hall
CCPC Organizational Meeting was held Wed., Jan. 18, 2017, 9:30am

Diggers Mixers Fixers - Jim Langlois Memorial - Golf Outing
The 2016 Diggers Mixers Fixers Jim Langlois Memorial Golf outing took place on Monday, September 26, 2016. A picture perfect golf day with a great turnout of 93 registered golfers. The first annual Jim Langlois Memorial trophy was presented to the day's best – the winning foursome – from CT Paving, Tom Avery, Bill Barton, Bob Dobmeier, and Todd Doten with a super close second place team from the L. Suzio York Hill Cos., Ric Suzio, Rich Blake, Josh Olsen and Bill Bridgeman. The generous support of sponsorships was a fitting tribute to our colleague and friend, the late Jim Langlois. Thank you Event Sponsors: H.O. Penn Machinery, Lafarge Holcim, Manafort Brothers Incorporated, The L. Suzio York Hill Companies (complete sponsor listing – here -).

Pervious Concrete: Moving in the Cold (Roads & Bridges, 2-6-12)
Goodspeed dedicates new housing for actors (The Day, 11-15-2011)
Subway Headquarters Parking Lot - stands the test of heavy rainfall. (photos 9/8/2011)
UCONN Goes Green with Parking Lots (Video 8/18/09)


Connecticut, Texas Share Top Honors as State Associations of the Year
Contact Information:
Connecticut Concrete Promotion Council
E-mail: ccia-info@ctconstruction.org
Phone: 860-529-6855 • Fax: 860-563-0616
912 Silas Deane Highway • Wethersfield, CT 06109